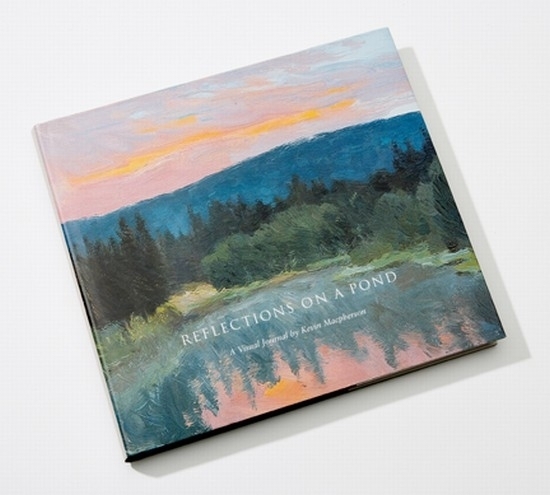 Price: $108.00 USD

Contact the artist about this artwork
---
Artist Comments
REFLECTIONS ON A POND
A VISUAL JOURNAL BY KEVIN MACPHERSON
BOOK

"The process of plein air painting elevates my senses and allows me to appreciate the moment, recording my emotions through a vocabulary of color. The colorful conversation that takes place on my canvas is a witness to life."

New Book release from Kevin Macpherson, "Reflections on a Pond" not only lives within the series of paintings themselves but also in the beautiful book. Over 400 color reproductions, 260 pages that capture the ever-changing daily and seasonal differences coupled with the moods and insight of the artist, Kevin Macpherson. Commentary by the artist and essays by editor Susan McGarry, Jean Stern, the Director of the Irvine Museum and art collector Roy Rose, grandnephew of
California Impressionist Guy Rose.


Claude Monet and other Impressionists of the nineteenth century sought to capture the fast-changing effects of light in their paintings. Likewise, as Macpherson painted his Pond series, he was less concerned with the subject of the pond itself than with the effects of light at different times of the day and year. Macpherson observed and captured the colors he saw, rather than putting down the colors one might think should be there. This keenness of observation is one of the foundations of excellent painting, and as Macpherson points out to his students, it can be learned. Once you learn to see in this way, his students say, you notice the surprising variety of colors in your surroundings, and every day becomes richer.


REFLECTIONS ON A POND: A VISUAL JOURNAL WAS AWARDED AN
HONORABLE MENTION WITH THE 14TH ANNUAL WRITER'S DIGEST INTERNATIONAL
SELF-PUBLISHED BOOK AWARDS.

Commentary from the judge.
"The total package is awesome and truly inspiring".

"There are no words to describe the beauty of this book. It speaks for itself. The poetically handled text complements the paintings, both therefore offering the reader/spectator new insights and new appreciation. Having been inspired by viewing these pictures and reading
these words, the reader will never again be blinded to the seemingly simple scenes that constitute daily life. The artist, the commentators, the publisher-all have excelled. This book is a work of art. I cannot imagine anyone not wanting a copy of it".



REFLECTIONS ON A POND BOOK REVIEWS

WOW! I love it – Especially the "interview" which is very informative. This book is a real surprise – much more to it than I expected which is FANTASTIC! I plan to tell everyone to buy a copy! - Colleen

The pond series absolutely floored me. Your words and your work made a huge impression on me. First your work made me smile, then your words made me think. - Antrese

My book arrived yesterday – what a sensory overload! Stunning and really helpful too – color, paint texture, mood, wow! Thanks for sending it so quick, I was so excited. - Betsy

What a labor of love, and diligence, and inspiration to aspiring artists like me. - Virginia

This book is a true work of art in its own right. Because of the amazing variety of paintings, designs and color harmonies, I had to keep reminding myself that all the marvelously varied and individual paintings represent a single location! One comes away from this book with the truth that the beauty of nature is surely inexhaustible if, like Kevin, we simply take the time to look! – Scott Burdick

Reading it and seeing the paintings you did inspired me – got my juices going, and for the first time since June First, I am anxious to paint again. – Bob

What a beautiful book and tremendous venture. It came in the mail yesterday and we could not put it down. It is amazing, too, how every day is so unique and different. We have thought about that many times…there's never been a day just like today! – Rebecca

Beyond art it's a doorway to your very intimate personality and who you are. – Ronaldo

It has quickly become my bathroom book in the morning…what great inspiration for the day. – Raleigh

I especially like the close ups of your palette and the commentary in the back. I have barely started. – Joy

I started reading your book and I don't read art books because I find them soooo boring. But I have found yours to be very inspiring and it reminds me what art is really all about. – Ron




Order today U. S. orders accepted only
$108.00 (includes shipping and handling)
Telephone orders: 575-758-7105
Postal orders: Kevin Macpherson
12 Clint Road, Taos, NM 87571
Email: mwanda@newmex.com


Now available by PayPal. Just click on the PayPal button.

For buyers out of the United States contact me for shipping amount.
---