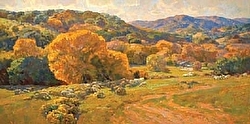 "The Golden State", oil painting, 36"x72"
Kevin has been honored to be invited by the Ministry of Culture of the People's Republic of China to exhibit in the London Museum from August 1-7, 2012. This painting was selected by the Organization for the Olympic fine Arts 2012 (London) which is going to be exhibited during the Olympic Games. Kevin travels all over the world in search of golden opportunities to capture the visual beauty of nature. His method is plein air painting, brush and oil colors in hand directly observing the atmosphere and light of the moment. The State of California (United States) is blessed with the grandeur of the High Sierras caressed by the blue Pacific and covered with tree covered rolling hills. In spite of the population that has flocked here no area can rival the diverse natural landscape of California. Under the patronage of the International Olympic Committee, with the approval of Ministry of Culture of the People's Republic of China and jointly organized by the China Society for the Promotion of Cultural and Art Development and Beijing Association for the Promotion of Olympics-related Culture, Olympic Fine Arts 2012 will be another celebration of art and sport after the Beijing Olympic fine Arts 2008. The aim of the event is to disseminate and exalt the Olympic spirit and ideals through different styles of fine arts from different areas. Olympic fine Arts 2012 will exhibit around 500 modern artworks of the highest level, which are created by artists from different country upon invitation.
---
« Shanghai Art Museum Art Exhibit | Main | Kevin Macpherson, Oil Painters of America Master Artist Exhibits, "Catalina Playground" »
---
---
1 Response to Kevin has been invited and a painting will be Exhibited at the Olympic Fine Arts 2012 in London
RachaelSable
via kevinmacpherson.com2 months ago
Nice painting Blog.

* indicates a required field