"I Heard the Good News"
60"x96" oil painting by Kevin Macpherson
Shanghai Art Museum, China
April 9-17, 2012
This December I returned from an exciting adventure to the far western province of China, Xinjiang. This new frontier borders Pakistan, Afghanistan, Tajikistan, Kyrgyzstan, Kazakhstan and Russia. This region was not even on my radar but I was the only non-Chinese artist invited to participate painting this region for a Museum Exhibition that will travel all of China and perhaps the United States. This opportunity came about quickly and I instantly accepted. We were special guests of renowned Chinese master oil painter, Guo Runmen. Huihan Liu and his talented wife Weizhen Liang and three other Chinese painters traveled together to this exciting territory. I came home so inspired with over 6 thousand photographs, oil studies and enthusiasm. The many ideas may precipitate another future one-man show.
The exhibition organized by the Chinese government includes the top 60 representational artists of China. The artists have traveled to Xinjiang during the past year and each artist submitted one large painting for this show.
I have spent weeks going through all my potential images that may best represent my feelings for this subject. I have so many great reference images it is hard to settle on one for this large painting. I have many compositional sketches and color sketches limited to help me make some wise choices before I commit to the 60x 96-inch canvas.
I was very impressed by the hospitality of the local Tashkurgan people who took us in for a few days while we documented their lifestyle. Tashkurgan is the last outpost on the Chinese Pakistan border. The ancient remains of the fortressed town sit at the base of spectacular 15,000-foot mountains encircling the village. Tajik herdsman tends yak, goats and sheep on these trails of the famous Silk Road. Life has not change all that much since the first traders came by this way. We warmed our bodies while they filled our spirits and bellies. The young ladies prepared fresh vegetables for us and salted tea on the wood-burning stove that acted as both cook top and heat for the thick adobe wall dwellings. The mudrooms were covered in colorful tapestries.
I followed the women as they gathered the water from the little creek that broke the monotony of the dry earth. The women dressed in colorful scarves and patterned dresses were a striking contrast to the harsh lifestyle and barren landscape. The time spent at the watering hole was not just to fill the buckets but also to fill up on the recent news of the village. Their contented way of life makes me pause and appreciate the simple things in life.
The Exhibition of nearly 250 paintings goes on tour to Major Museums in Guangzhou, Shanghai, Beijing, Xinjiang and Hong Kong. I will be attending the Shanghai opening at the Shanghai Fine Arts Museum this April.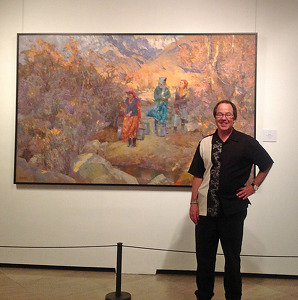 Kevin in front of his painting in Shanghai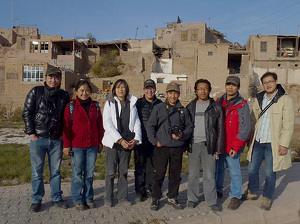 Group shot of artists in Xinjiang in November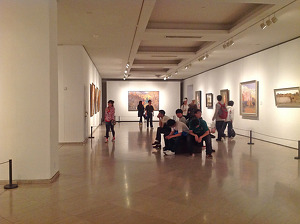 Kevin's painting in the Museum