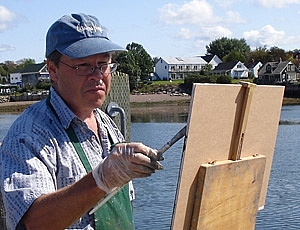 "Tell us What You Want to Learn!
Over on Artist Mentors Online we started blogging. We want to know what you
want to read and learn about, so we have a quick 4 question survey for you
to tell us the topics you want us to blog about. We want to help you, but
you have to help us first by telling us what is important to you. Here's
the link to the blog where you can vote on the topics of interest to you:
http://www.artistmentorsonline.com/?p=3489
Please feel free to spread the word about the survey. The more responses
the more we'll be able to tailor our services and blogs to help you!
Thank you for taking time to answer the survey and spread the word!
Regards,
Kevin, Wanda, Linda and Tom"
Feel free to put the link on Kevin's website and yours if you like. I'm
going to put it on mine now as well. Although I don't get as many hits on
my site as we do on AMO.
Thanks!
Linda
---
« SECOND SEASON OF PASSPORT AND PALETTE | Main | California Art Club Exhibition, April 3-24, 2011 »
---
---