PLEIN AIR PAINTING WORKSHOP
Hornby Island, Vancouver
Unique Island Setting
Hornby Island is a peaceful and progressive-minded refuge for artists, bohemians and urban exiles. The natural beauty and laid back atmosphere of this charming Canadian Island will be the perfect backdrop and motif for an inspiring art retreat. Hornby enjoys mild and largely dry weather in spring, summer, and fall. Big Tribune Bay is one of the warmest salt-water swimming destinations in British Columbia. With nearly a mile of gorgeous white sand, this beach is why Hornby is called the Hawaii of Canada.
Just two short ferry rides away from Vancouver Island.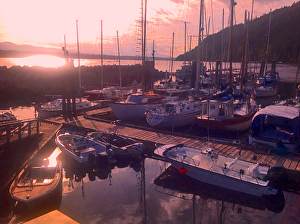 Join celebrated Plein Air artist, Kevin Macpherson
Kevin is author of three best selling plein air books, Fill Your Oil Paintings with Light and Color, Painting the Landscape Inside and Out, Reflections on a Pond: A Visual Journal, and the soon to be released new book, Light, Atmosphere and Color. Beginners to advance artists will benefit personally from Kevin's 35 years of experience painting on location, teaching, and concise writing methods. The workshop includes four days painting the beautiful, pristine coastal landscapes, personal attention, and group critiques. Challenging lessons, lectures and instructor/demonstrations will fill the days with the "art spirit". Simplify the chaos of nature with a firm understanding of light and shade. Master color relationships and composition made easy. Forget the formulas and look to nature for the truthful answers. Learn to react intuitively painting en plein air for successful passionate painting. Create a painting that goes beyond merely a picture one that evokes the senses. Engage in artistic challenges and take risks under the tutelage of a passionate well-known instructor. All levels of experience are welcome and the fundamentals apply to all mediums. Return home with a solid grasp of landscape fundamentals and the confidence to release your passion and let your true voice rule. Bring a limited palette, lots of small canvases and a work ethic, but most of all don't leave home without your sense of humor. Kevin will keep you laughing all the while you learn. This is the first time Kevin is teaching in British Columbia. Take advantage of this opportunity!
*************************************************************
Another great event this Fall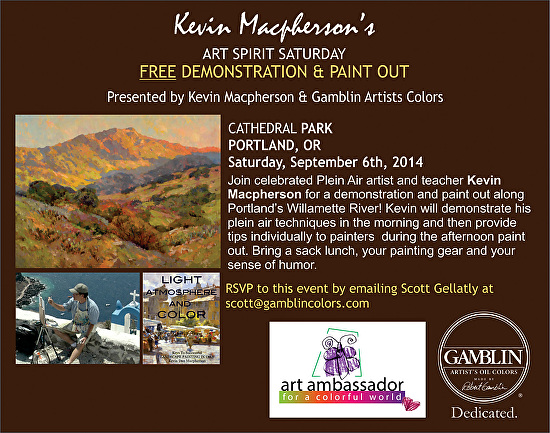 See "Workshops" for detailed information on these workshops
If interested in receiving newsletters periodically, contact us and
I will put you on the list.
We don't bombard you with a bunch of emails.
Click below to view each section